Vision
The primary focus and vision of Michael's Ministry is:

* To take the time-tested teachings of our precious Church and make them understandable and "digestible" to the average lay person
* To "equip the saints to do the work of the ministry" according to St. Paul's instruction to the Ephesian Christians
* To make the Church of the twentieth century ever better fitted for proclaiming the Gospel to the people of the twentieth (and now the twenty-first) century (from Pope Paul VI, in his statement as to the objectives of the Second Vatican Council)
Message from Michael Cumbie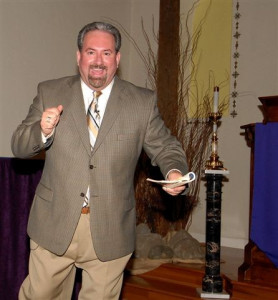 Dear Friends in Christ,

I'm so happy and actually thrilled you are visiting us on the web. With a recent downsizing at the Catholic Resource Center (CRC) and St. Joseph Communications, some staff positions were eliminated. Unfortunately, my position as Director of Evangelization was one of those positions. I was not at all disheartened though; in fact I was almost giddy. I had wanted for so long to be out on my own, doing what the Lord has called me to do.

So many people have encouraged me over these past three years with love, prayers, and financial support for the CRC. My calling from God has not changed, if anything, the scope of my ministry has gotten broader. Not only do I know, that I know, that I know that I am to continue traveling the nation preaching the Gospel and telling my conversion story, helping to put Catholics "in touch" with their faith, but I feel it's time to enlarge the scope and borders of my vision for evangelization.

Finally, as you read on the home page, I am developing curriculum and study guides for 'in-parish" evangelization training programs so that every parish, on a local level, can teach their own people how to reach out to a lost and dying community. I am developing curriculum for the Documents of Vatican II, the Catechism, Pope Paul VI's Encyclical on Evangelization in the Modern World, the Nicene Creed, and a simple introduction and study on the life of Christ in the Church. The apologetics department of my ministry will be called "The Micah Project" because of the Old Testament prophet named Micah.